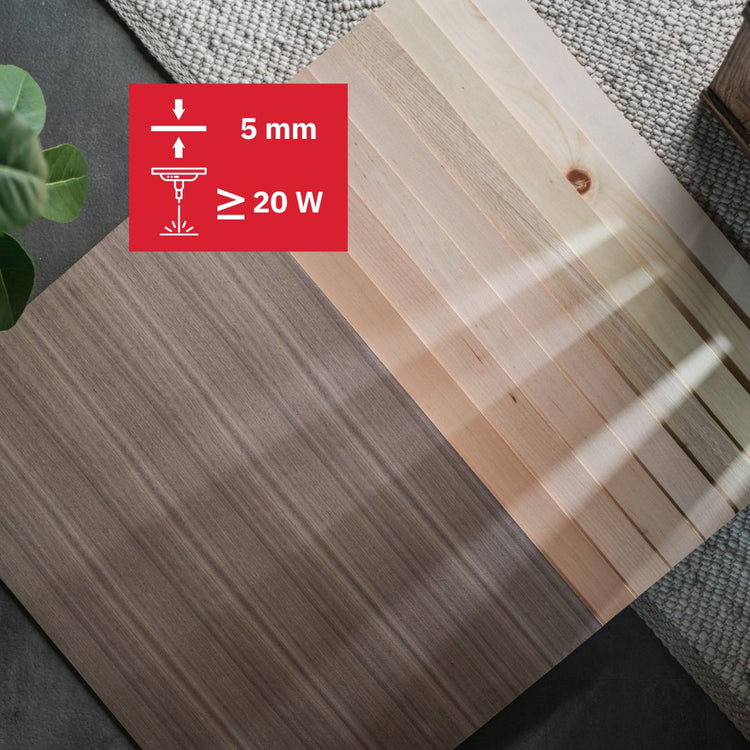 Veneered poplar plywood for laser processing
Fine poplar plywood or also known as veneered poplar plywood, when it comes to woodworking, veneered poplar plywood is a great option. It is not only light and stable, but also ideal for laser processing. Here we will take a closer look at the advantages of veneered poplar plywood for laser processing and consider some important factors to consider when using laser equipment with this material.
Advantages of veneered poplar plywood
Veneered poplar plywood is a type of plywood in which thin layers of poplar wood are glued together and covered with a thin layer of veneer. Due to its excellent properties, this material is very popular in the furniture industry and other applications where stability, strength and aesthetics are crucial.
In terms of laser processing, veneered poplar plywood has some unique advantages. It's lightweight, thin, and has a smooth surface that makes it easy to engrave or cut the patterns and designs you want. It's also relatively inexpensive and easy to obtain, making it a cost-effective option for projects large and small.
Factors in using laser equipment with veneered poplar plywood
When laser cutting veneered poplar plywood, there are a few important factors to consider in order to achieve a quality result.
Material thickness: Veneered poplar plywood is available in different thicknesses. It is important to choose the right thickness for your project as this will affect the quality of the engraving or cutting. Too thin a gauge of material may cause the material to burn or deform, while too thick a gauge of material may result in the laser not penetrating deeply enough.

Laser Settings: The settings of the laser, such as power and speed, are critical for engraving or cutting poplar veneered plywood. Too high a power may burn or deform the material, while too low a power may not be enough to cut or engrave the material. Optimal speed ensures uniform processing without unwanted burn marks.

Protective foil: In order to achieve an optimal result when laser processing veneered poplar plywood, it is advisable to stick a protective foil on the material. The foil protects the material from being burned or discolored by the laser and also helps keep the material flat, making it easier to engrave and cut.
Conclusion
Overall, veneered poplar plywood is an excellent choice for laser processing, especially for those looking for a cost-effective and easy-to-machine option. With the right settings and technique, you can achieve impressive results with this material.
Over Furniertes Pappelsperrholz für die Laserbearbeitung
Deepdive!
Tips and tricks on the subject of lasering with wood