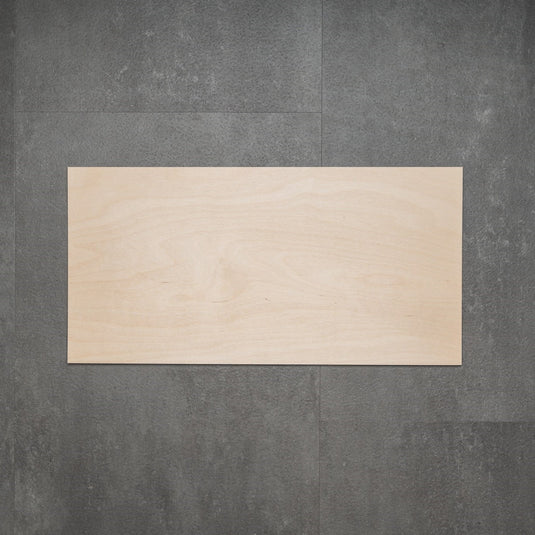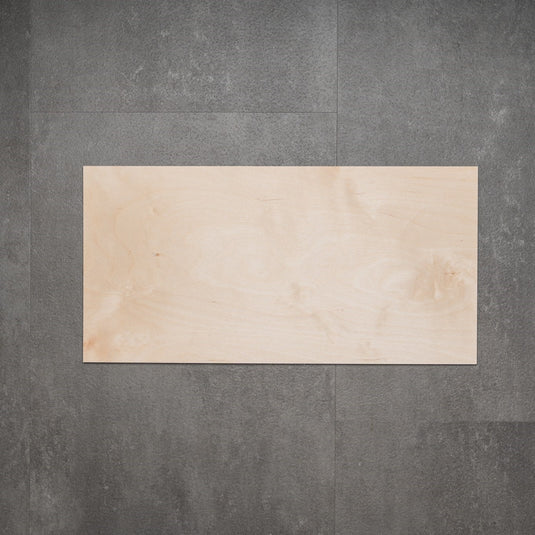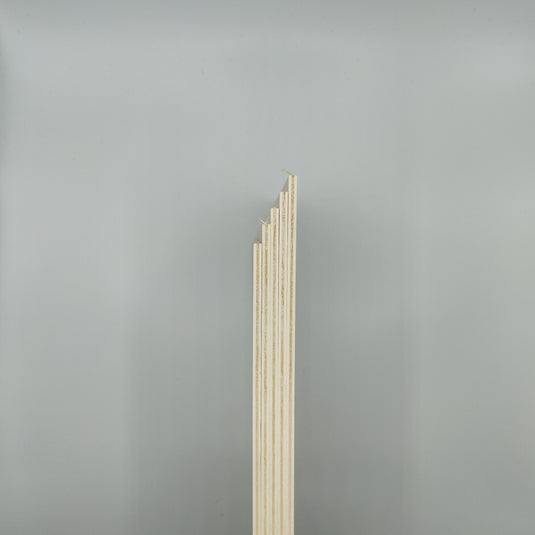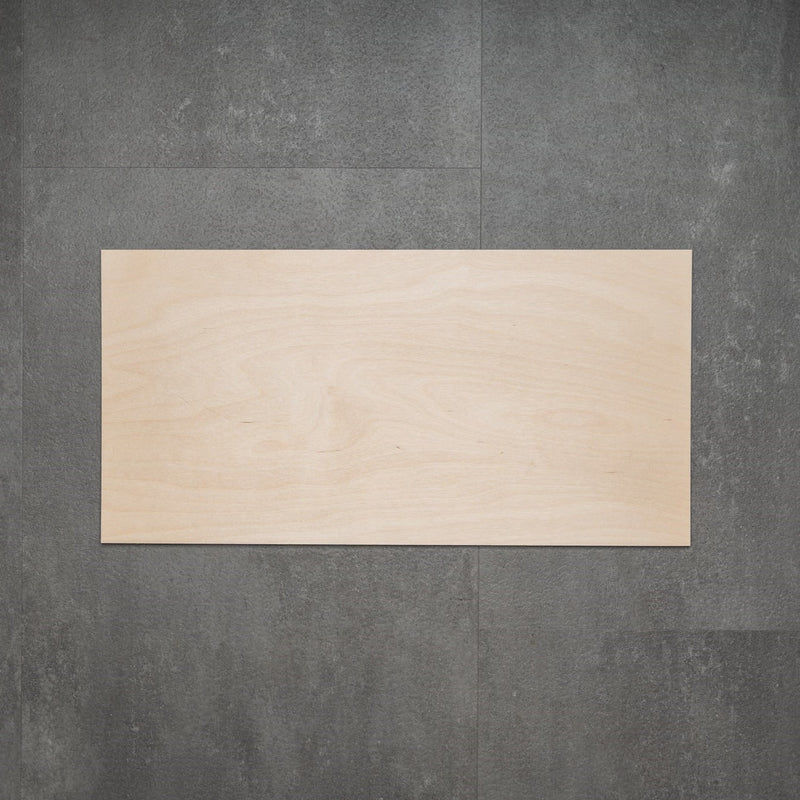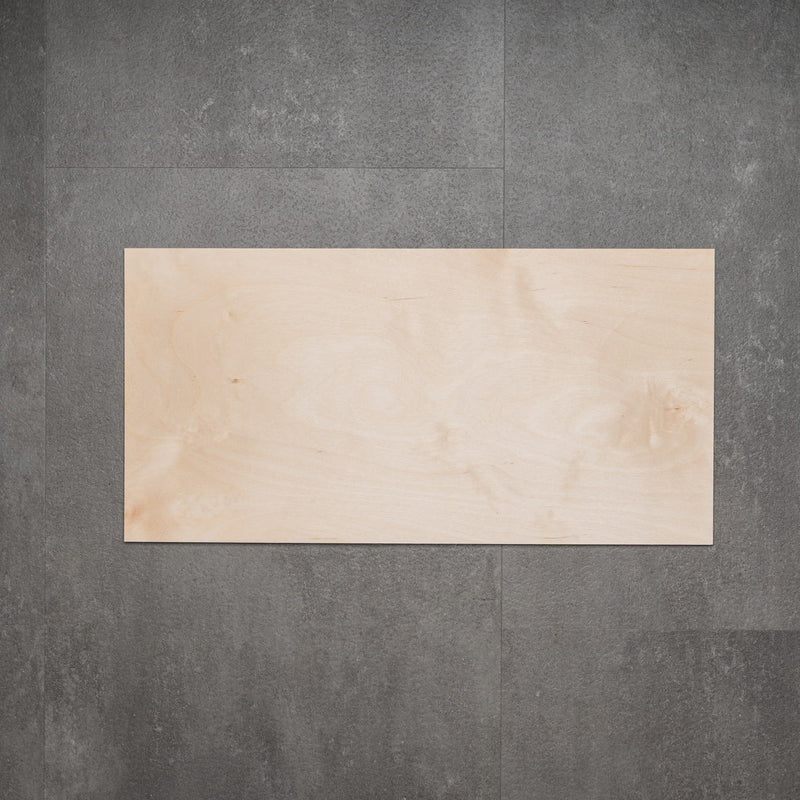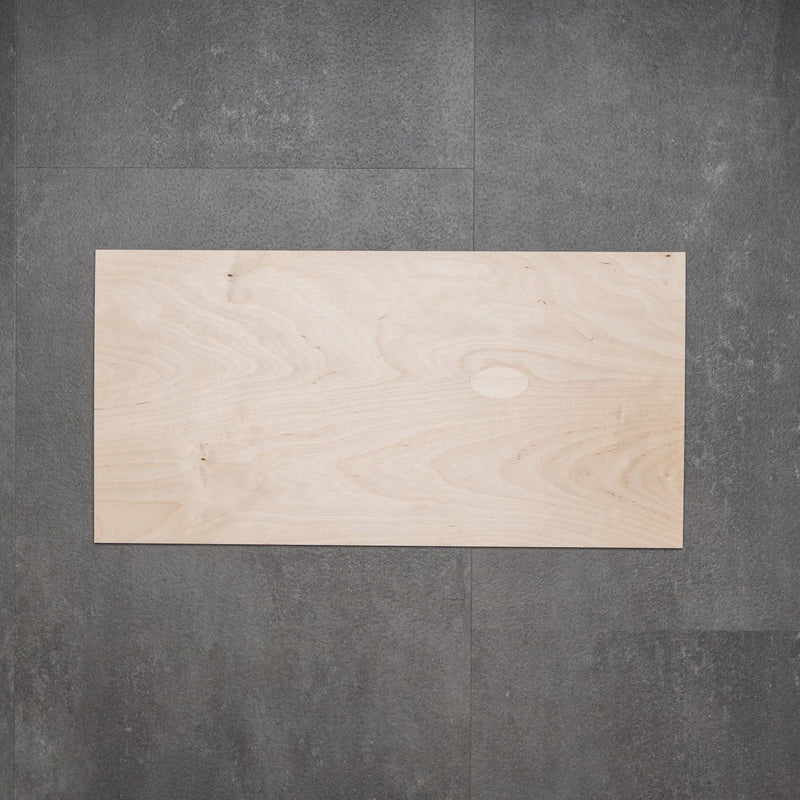 birch plywood
In practical formats. The birch is known as a pleasant and light-colored hardwood.
The crosswise gluing of thin birch veneers forms a compact wood material that is ideal for creative purposes. Even the do-it-yourselfer cannot avoid this wood-based material when works are put into practice.
The 5mm plywood offers a high level of stability and robustness thanks to its 7-layer structure. This is particularly beneficial for the real wood material during processing. Fine contours and exact cuts are thus possible.

The 3mm Birkensperrholz stands out due to its simple 3-layer structure and is ideal for processing with a laser cutter and scroll saws due to the small number of layers.
WOOD4PROS.COM has taken special care to ensure that the gluing is suitable for the laser processing is.
 PU: 10 panels per package

Application examples:
Prototyping
memorabilia design
wooden decoration
handicrafts
milling material
wood for lasering
uvm.
editing properties
| | | | | | |
| --- | --- | --- | --- | --- | --- |
| editing | Very good result | good result | satisfactory result | bad result | not possible |
| saws | X |   |   |   |   |
| Drill | X |   |   |   |   |
| Ribbons | X |   |   |   |   |
| laser cut | X |   |   |   |   |
| Laser engraving | X |   |   |   |   |
| milling | X |   |   |   |   |
| Milling engraving | X |   |   |   |   |
| Cut with a cutter knife |   |   |   | X |   |
| Cut with scissors |   |   |   |   | X |
| paint | X |   |   |   |   |
| Dying | X |   |   |   |   |
| Glue | X |   |   |   |   |
| gluing | X |   |   |   |   |
When processing 5mm plywood with the laser cutter, it should be noted that the layered structure requires significantly more laser power than solid wood of this thickness.
Laser grade plywood is the perfect choice for anyone who needs high quality, precise cuts from a laser. Made with the best materials, it offers excellent quality and a regular structure that guarantees precise machining.
Plywood from our house is made of several layers of thin wood and is particularly stable and resistant to deformation. This makes it ideal for use with a laser as it has no unwanted distortions or cracks when cut.
WOOD4PROS.COM plywood is also available in common thicknesses of 3mm plywood and 5mm plywood, allowing you to make the perfect choice for your specific needs. Whether you need it for prototyping, model making or any other application, our plywood will not disappoint.
Our plywood is also very easy to machine and cut, making it an excellent choice for all types of laser applications. You will appreciate the high quality and reliability of our plywood and you can be sure that it will last a long time.
So why wait? Order our plywood for laser applications today and benefit from high quality, precise processing and long durability.
Not sure which material is right for your purpose and laser power? Then find out our guide or let yourself go advise us to find the optimal material!
- - -
The images shown are sample images. Wood is a natural product, each piece is unique. The goods received may differ in colour, structure and quality from the example image. The complete satisfaction of our customers is our most important asset.
- - -
Are you looking for larger purchase quantities and formats in your individual format? Then follow this link and learn more!
Top Qualität
Top Qualität, Preis- / Leistung sehr gut. Schnelle Lieferung
Servus!
Vielen Dank dass du deine Erfahrungen und Begeisterung mit uns teilst.
Beste Grüße,
Julian von WOOD4PROS.COM
Too much glue spot issues
Cutting issue on almost every plate due to glue spot. The wood slices are very thin so you will get easil chips when it's cut.
Sehr geehrter Herr Anthony,
vielen Dank für Ihre Bewertung und wir bedauern, dass unser Produkt Birkensperrholz nicht Ihren Erwartungen und Anforderungen gerecht wird. Sperrholz hat leider immer wieder die Angewohnheit, dass manche Klebestellen nicht vollständig verbunden sind. In unserer optischen Qualitätskontrolle versuchen wir genau so etwas zu im Vorhinein zu verhindern, jedoch scheint es so, dass uns hier etwas dazwischen gerutscht ist, dafür möchte ich mich aufrichtig bei Ihnen entschuldigen.
Um ein 100%-iges Ergebnis zu erzielen empfehlen wir ausdrücklich zu unserem Sortiment der Edel-HDF Platten. Hier können Sie absolut sicher sein, dass sowohl die Sichtflächen, als auch der Plattenkern von einwandfreier und homogener Beschaffenheit ist.
Vielen Dank noch einmal für das Feedback!
Julian von WOOD4PROS.COM
Super
Pappelsperrholz sehr gute Qualität
Vielen Dank für die gute Bewertung und danke dass du deine Erfahrung mit uns teilst!
Beste Grüße,
Julian von WOOD4PROS.COM
Alles super! Sehr schnelle Lieferung
Liebe Katrin,
vielen Dank für deine gute Bewertung und freuen uns, dass du die Begeistung mit uns teilst.
Beste Grüße,
Julian von WOOD4PROS.COM
Lieber Gerald,
vielen Dank für deine gute Rückmeldung und freuen uns, dass du unser Holz so schätzt.
Beste Grüße,
Julian von WOOD4PROS