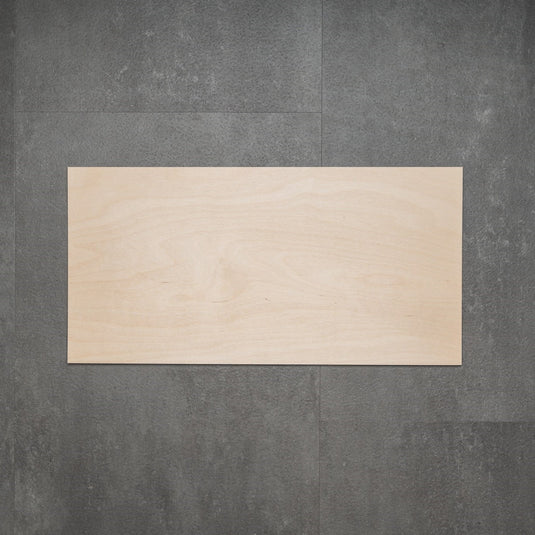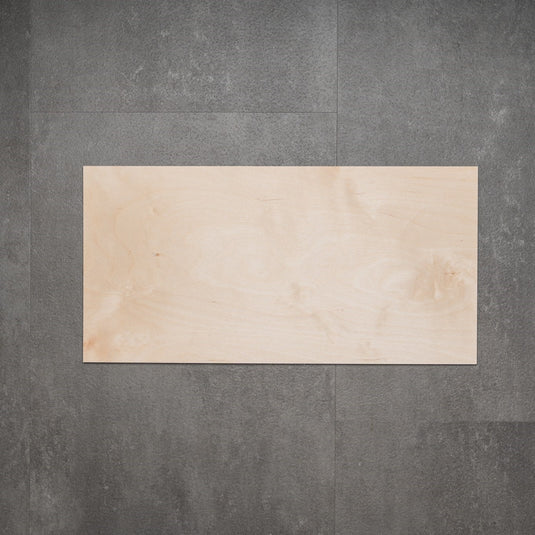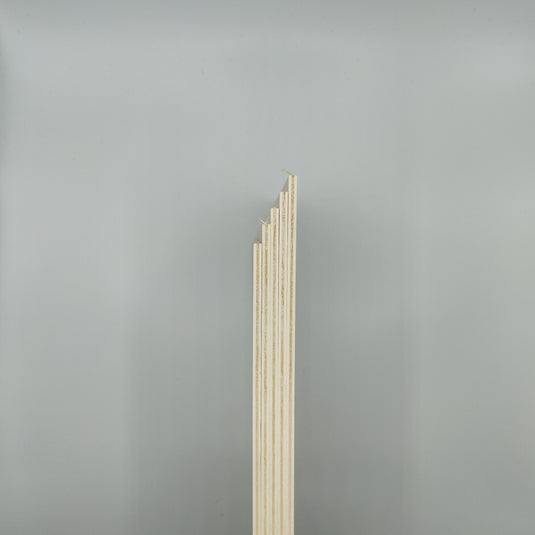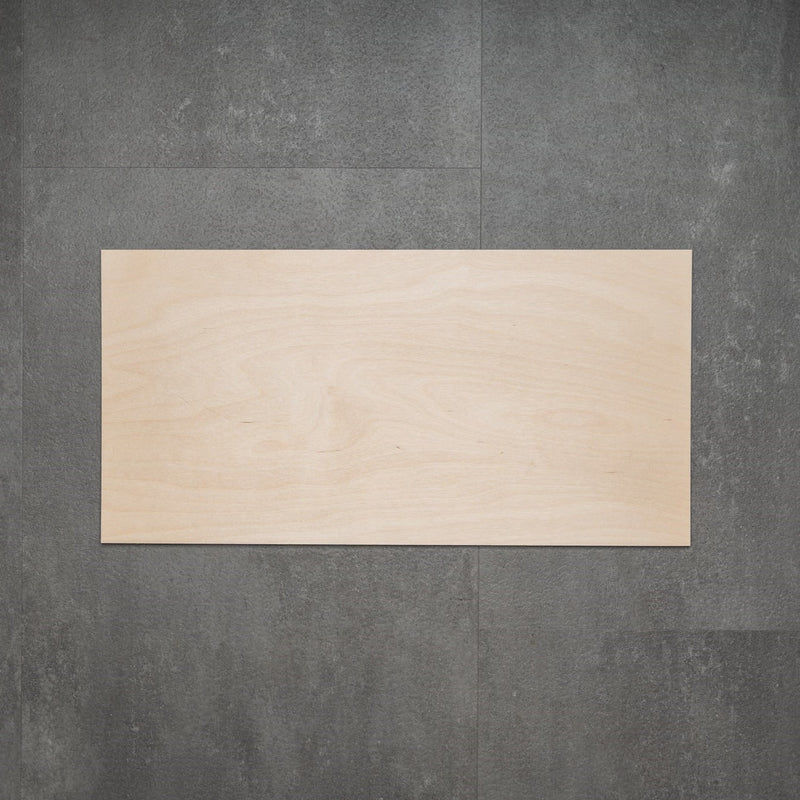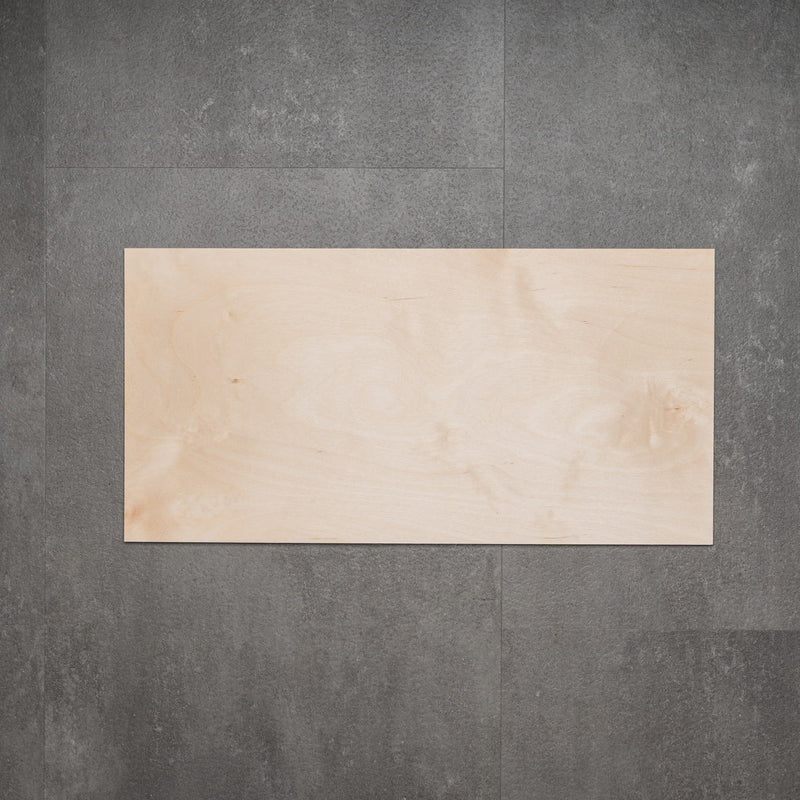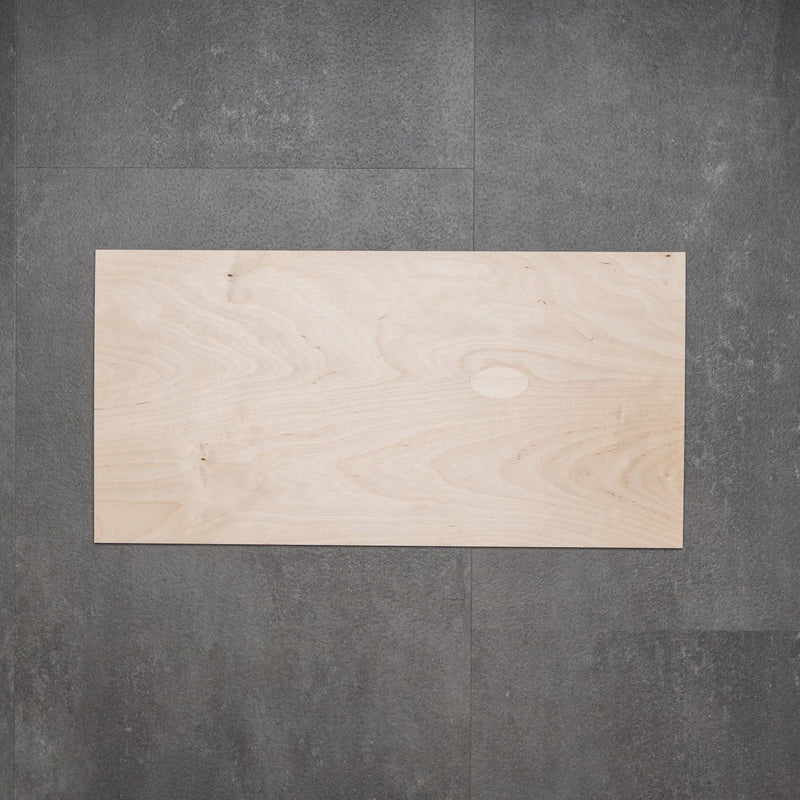 birch plywood
In practical formats. The birch is known as a pleasant and light-colored hardwood.
The crosswise gluing of thin birch veneers forms a compact wood material that is ideal for creative purposes. Even the do-it-yourselfer cannot avoid this wood-based material when works are put into practice.
The 5mm plywood offers a high level of stability and robustness thanks to its 7-layer structure. This is particularly beneficial for the real wood material during processing. Fine contours and exact cuts are thus possible.

The 3mm Birkensperrholz stands out due to its simple 3-layer structure and is ideal for processing with a laser cutter and scroll saws due to the small number of layers.
WOOD4PROS.COM has taken special care to ensure that the gluing is suitable for the laser processing is.
 PU: 10 panels per package

Application examples:
Prototyping
memorabilia design
wooden decoration
handicrafts
milling material
wood for lasering
uvm.
editing properties
| | | | | | |
| --- | --- | --- | --- | --- | --- |
| editing | Very good result | good result | satisfactory result | bad result | not possible |
| saws | X |   |   |   |   |
| Drill | X |   |   |   |   |
| Ribbons | X |   |   |   |   |
| laser cut | X |   |   |   |   |
| Laser engraving | X |   |   |   |   |
| milling | X |   |   |   |   |
| Milling engraving | X |   |   |   |   |
| Cut with a cutter knife |   |   |   | X |   |
| Cut with scissors |   |   |   |   | X |
| paint | X |   |   |   |   |
| Dying | X |   |   |   |   |
| Glue | X |   |   |   |   |
| gluing | X |   |   |   |   |
When processing 5mm plywood with the laser cutter, it should be noted that the layered structure requires significantly more laser power than solid wood of this thickness.
Laser grade plywood is the perfect choice for anyone who needs high quality, precise cuts from a laser. Made with the best materials, it offers excellent quality and a regular structure that guarantees precise machining.
Plywood from our house is made of several layers of thin wood and is particularly stable and resistant to deformation. This makes it ideal for use with a laser as it has no unwanted distortions or cracks when cut.
WOOD4PROS.COM plywood is also available in common thicknesses of 3mm plywood and 5mm plywood, allowing you to make the perfect choice for your specific needs. Whether you need it for prototyping, model making or any other application, our plywood will not disappoint.
Our plywood is also very easy to machine and cut, making it an excellent choice for all types of laser applications. You will appreciate the high quality and reliability of our plywood and you can be sure that it will last a long time.
So why wait? Order our plywood for laser applications today and benefit from high quality, precise processing and long durability.
Not sure which material is right for your purpose and laser power? Then find out our guide or let yourself go advise us to find the optimal material!
- - -
The images shown are sample images. Wood is a natural product, each piece is unique. The goods received may differ in colour, structure and quality from the example image. The complete satisfaction of our customers is our most important asset.
- - -
Are you looking for larger purchase quantities and formats in your individual format? Then follow this link and learn more!
Hochwertige Produkte - Unkomplizierte Kommunikation!
Ich habe vor Kurzem ein paar der Edel-Pappelsperrholz Platten und das Birkensperrholz in der Größe 600x300mm bestellt, um Fräsarbeiten mit der Shaper anzufertigen. Ich bin absolut begeistert von der Qualität!
Bei Fragen kann ich die Kommunikation über den Whatsapp-Chat nur empfehlen. Mir wurde freundlich und schnell weitergeholfen.
Vielen Dank, es freut uns dass du zufrieden bist!
Beste Grüße,
Fabian von WOOD4PROS
Sperrholz 3 mm
Superschnelle Lieferung top Ware👍
Vielen Dank für deine gute Rückmeldung und es freut uns dass du so mit deinem 3mm Birkensperrholz und unserem Service zufrieden bist.
Beste Grüße,
Julian
Top Qualität und sehr schnell
Am Sonntag Nachmittag bestellt und schon am Dienstag mittags erhalten! Wahnsinn.
Der optische Eindruck passt - super Qualität.
Leider wurde statt der bestellten Birke nun Buche geliefert (Bestellung #w4p4036) - ist aber überhaupt kein Problem :-)
Wir werden bestimmt wieder bestellen!
Danke und liebe Grüße aus dem südl. NÖ
Lieber Josef, besten Dank für deine super Bewertung!
Zu dem Buche/Birke Thema: wir haben das geprüft (von jeder Bestellung wird ein Kontrollfoto gemacht), es handelt sich tatsächlich um Birke - es wurde nur das falsche Produktetikett drauf geklebt. Die Artikelnummern 'Sph13' und 'SphB13' haben uns die Verwechslung beschert :-D
Beste Grüße,
Fabian von WOOD4PROS
Perfect
My order was processed quickly: Delivery to France in 5 days including a weekend.
The product (5mm thickness plywood) meets my expectations.
Thanks.
Dear Hervé,
thank you for your good review!
We always keep trying to be faster in our deliveries ;) And I am glad to hear that our plywood quality meets your expectations.
Kind regards,
Julian from WOOD4PROS.COM
Top Qualität und Kundenservice!
Ist jetzt sicher die 5te oder 6te Bestellung. Waren eigentlich jedes mal mehr als zu frieden! Gute Qualität, der Preis ist Top und die Lieferung erfolgte super schnell! Was will man mehr. Selbst wenn man mal was zu beanstanden hat, wird sich er Sache konstruktiv angenommen und eine Kundenorientierte Lösung gefunden. Wir bestellen auf jeden Fall wieder. Liebe Grüße und weiter so!
Hey Jan,
vielen Dank für deine super Bewertung! Es freut mich, dass du mit unseren Materialien und dem Service happy bist!
Beste Grüße,
Fabian von WOOD4PROS.COM